Five years ago. That's when Drew and I had the ambitious idea to start a tech company and to create Crunchwork. With no funding...
After years of running a successful insurance building company together, Australian Building and Construction Group, we had two problems to solve.
First off, there wasn't an easily configurable, off-the-shelf platform for businesses managing high-volume projects.

Second, was the ridiculous number of portals, apps, and systems required to do this work. It's inefficient, costly, and overall frustrating.
So, if we couldn't find the perfect solution… why not create it?
We established a simple agenda:
"Let's pioneer new ways to make the world simpler."
Straightforward? Yes. But not easy.
With trials and tribulations, we started and scaled Codafication. Now, we're working with the biggest insurers in Australia, and the largest brokerage houses in the world.
Today, I'm excited to introduce our latest innovation, Crunchwork, and share a bit of our journey with you.
Let's get into it!
Ripping off the band-aids
Early in our journey at Australian Building and Construction Group, we did what most high-volume businesses do. We took a big-name open source CRM system and combined it with different time and project management tools. We band-aided them all together to manage our workflow.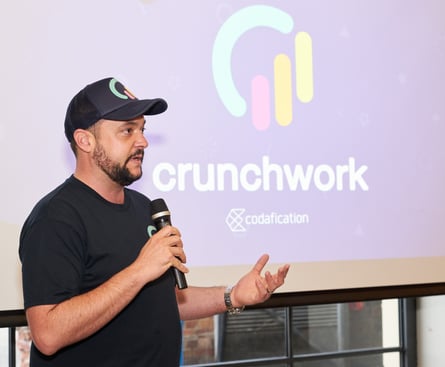 When we sat back, we are alarmed at the year-on-year spend on IT to build and maintain this Frankenstein system. And it wasn't even efficient or easy to use. Since the system wasn't purpose built for our industry, no amount of customisation could overcome its limitations.
"We were fed up with clunky enterprise systems, disconnected teams, rigid processes, and massive system maintenance overheads."

There were 100s of 1000s of other businesses facing the same challenges. All wasting time and money on multiple, disconnected systems and poor supply chain communication. We needed to replace endless programs with a singular, powerful platform.
So, we ripped off the band-aids, and set out create the software we wished existed.
Building Crunchwork
When we founded Codafication, the initial plan was to build Crunchwork first. But after speaking with potential global partners and clients, we quickly realised the problem ran deeper.
"There is a disconnect between core legacy systems and how people receive work."

First, we needed to solve how data is received, the complexity of data, and how to shape and structure data across multiple systems in real time. We reset and built Unity Cloud, a powerful software development platform that allows you to build and ship software in minutes, not months.
Unity Cloud is our secret sauce. It's our unique way of building software, and it's how we were able to create Crunchwork.
"As clients come to us with needs, we can quickly build the pieces of software needed to tie into Crunchwork to solve their unique problem."

That time in Vegas…
Two years ago, we presented our innovations to Microsoft at a conference in Las Vegas. They were impressed by our technology and offered to partner with us. They also invited us to join their start-ups program in North America.
Thankfully, what happened in Vegas didn't stay in Vegas (this time). We've since graduated, and Microsoft are now a co-sell partner of Codafication.
"Our partnership with Microsoft is very exciting. It validates our technology and how we solve problems for businesses."
We're grateful to have a tech behemoth behind us, supporting us through our growth journey.
World, meet Crunchwork
Five years, three solutions, many meetings and almost forty staff later…
I'd like you to meet Crunchwork.
It's an end-to-end project management platform, reimagined for your entire supply chain.
Crunchwork is tried and tested on over 200,000 jobs.
Crunchwork is for insurers and insurance supply chains who are fed-up and bogged down juggling multiple systems, data, jobs, and people.
It's a cloud-based project management software that has everything you need to complete compliant projects and drive your business forward in a single, easy-to-use platform. Pull your people, customers, data, and supply chain, into one place. Free yourself from admin work and automate tasks to win and complete jobs faster.
Unlike typical project management platforms, Crunchwork is both flexible and powerful enough to operate your entire business however you work best.
With Crunchwork, you can:
Bring all people, clients, vendors, suppliers, data, and software into one simple, user-friendly hub

Automate time and soul-sucking manual processes, such as quotes, invoicing, data entry, variations, reports, etc.

Empower users to create their own custom workflows or modules

Invent a system that can be built around or replace legacy software to ease digital transformation for large enterprises

Unlock data from ERP systems, clients, disparate software, etc. with powerful integrations

Connect the office to the field with device compatibility, cloud-based access, real-time video streaming and easy data capture

View KPIs, business metrics, revenue, outstanding tasks, etc. in real time to drive business growth

Manage any project and job type, and configure Crunchwork across all divisions of your organisation
"It's a very powerful solution for an insurer to modernise how they distribute insurance claims through a supply chain. But it's also perfect for any high-volume business - from small biz to enterprise – that wants to simplify growth."

Looking forward
We're just getting started with Crunchwork. We've been fortunate in expanding our product offering in Australia. Our next endeavour is to launch into the European market. We're empowering distribution partners with software development kits to wholesale our product into other large enterprise industry segments. We're also lining up co-sale partners to move Crunchwork into small businesses in new markets.
"It's exciting times for a scale-up business in Brisbane's Fortitude Valley."
Our diverse team - many have been with us since day one - has doubled since March and is projected to double again in the next six months.
The next three years sees us following an extensive product roadmap of continued improvement and more and more modules added to the library to solve different pain points for organisations.
"We're gaining a lot of momentum and seeing and taking amazing opportunities."
Thank you
To the Codafication team, a massive thank you for coming on the journey, wherever you are in the timeline of the company's growth. Every team member is extremely valued in what they add to the company.
To all the clients that have supported us, thank you for having faith in our vision. We've had some strong partners that have backed us since day one and been prepared to test our software, and helped make us a big success. You will never be forgotten on our journey.
You can learn more about Crunchwork at crunchwork.com or book your personalised demo with our team here.